Greetings again from the silent hours between dusk and dawn.
Silent for some I imagine, but hardly for myself tonight. As a relatively new father I'm still not greatly experienced with many of the negatives that come with having babies. Tonight my son has decided to be rather vocal in his discomfort or maybe he just can't sleep. My wife is convinced he's doing it on purpose as a test though. I guess we'll see. In truth I don't feel too bad in the whole thing because I can't help but look forward to the times we'll be having in the future. My little wargamer I hope one day. Not so much in any major way but at least we can have fun together in a hobby, or that's my hope. I guess we'll see.
So I'm writing this even later than the other days just because of my unwinding routines, chatting with community members and entrepreneurs, and visiting sites like the Warmaster. I found myself chatting everyone's ear off so after a few lines with nitrodavid and him asking about the blog I realized,'I really do need to get over there and write something!' But this is a great thing actually because truthfully I am having a lot of fun with his and I haven't even scratched the surface yet. I'm definitely in need of some advice when it comes to formatting this project so ideas and feedback are certainly welcome. I can't imagine many people are reading my posts at this time but those that are, please join in!
Tonight I'm going to talk briefly about my Infinity army. This army is for another game, namely Infinity, which is far newer than Warhammer 40k, and also far less popular at the moment. It is a very up-and-coming game though and has some innovations to it's rules set that many have found very fun and addictive. One of the main features is that players get reactions to their opponents movements and actions on the table during the opponent's turn. The rules call this an A-R-O. 40k is more traditional in that mostly you only react on your own turn. Of course many players are aware of or have experienced this. Personally I love Infinity and have played it more often recently than 40k. That's not really a trend towards diminishing Warhammer though because I plan to get more serious about it as well in the near future.
Infinity is truly impressive though. It's produced by a Spanish company named Corvus Belli. They do make other products and games but Infinity seems to be the hit in their line. Relatively new to the market it has grown exceptionally fast and is spreading in the American market. In my own area though I only know one other player and it does seem like this is a common problem for many wargamers at the moment. Luckily the game is so good most of us aren't worried we'll be waiting too long. The minis are all metal at the moment but are cast in a 28mm-ish True Scale as opposed to the Heroic Scale that Warhammer is produced in. This means more realistic proportions for the models mainly. As for getting a little more practical and in-depth info on Infinity and how it works, check out many of the larger wargaming businesses like Blue Table Painting, Beasts of War, and Miniwargaming for batreps, news, releases and more. Or, you can check out Corvus Belli's own Infinity Official website.
I'll finish up today with my very first Infinity model ever. I play an army called the Nomads which are exactly what their name implies but also much more complicated. It's a Sci-Fi game and the Nomads make their home in giant traveling city sized space ships. I'll probably go into some more details in the future but for now I'll show off my Zero Hacker from the Bakunin Sectorial. I'll also try to explain all that more later as well. Let's just say for now that he's a very sneaky Hacker soldier and quite sick looking too. You will probably notice a couple of his fingers are too short and unfortunately this was how my model was cast. When I put him together I was a little bit disappointed but really it's hard to notice on a table. I should also mention that I have used resin bases from Secret Weapon Miniatures on my Nomads. They're the Tau Ceti set and I really like them. Enjoy!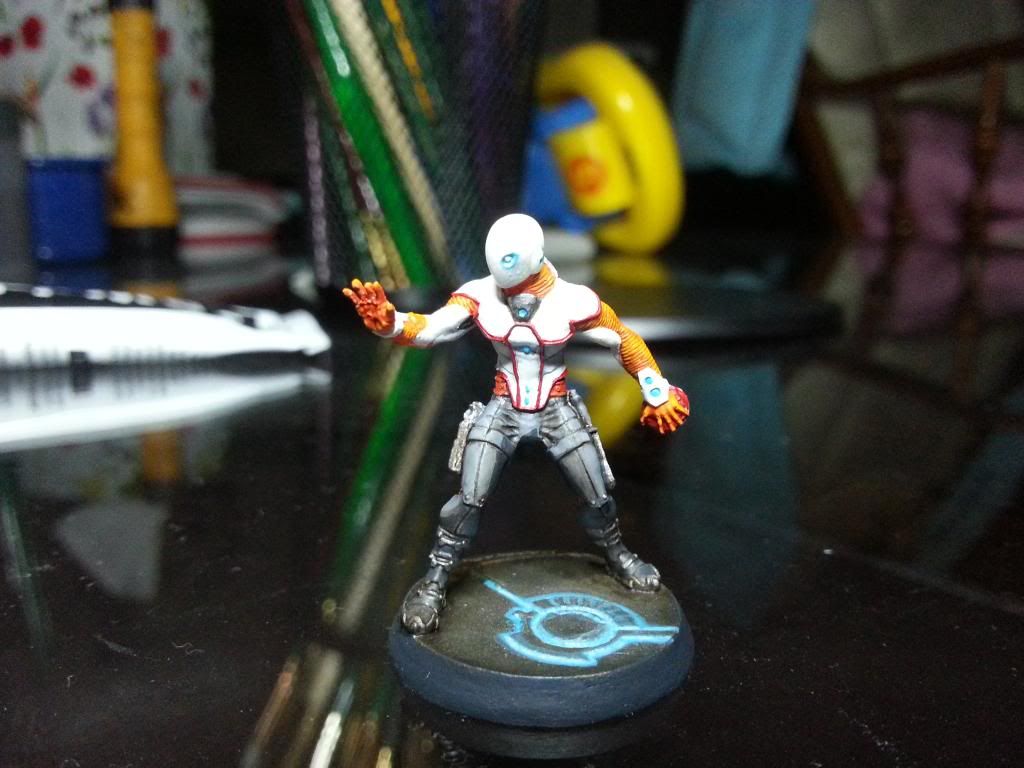 I only have the one pic of this guy currently but I'll get some more. The rest of the army numbers around 20 models at the moment, a very good sized force, and I plan to show them all off in time.
To be continued...